The Box Gallery
Address: 811 Belvedere Road, West Palm Beach, Florida 33405
Curator | Website | Instagram | TikTok | Facebook | Yelp! | Tripadvisor Reviews
Recent Press
January 2022
3 to See: 'Art for All,' works by Warhol, Dramaworks' new production...

'Art for All' in West Palm Beach
If you're thinking of starting your own art collection and are looking for some tips, then head to The Box Gallery this week! The organization is currently showing "Art for All," an exhibition intended for budding art collectors at many price points. Even if you're not planning on collecting/purchasing art, this is a great show to see!
- Palm Beach Post


"Some of the leading and most illustrious artists of South Florida at The Box Gallery"
featured in West Palm Beach Magazine.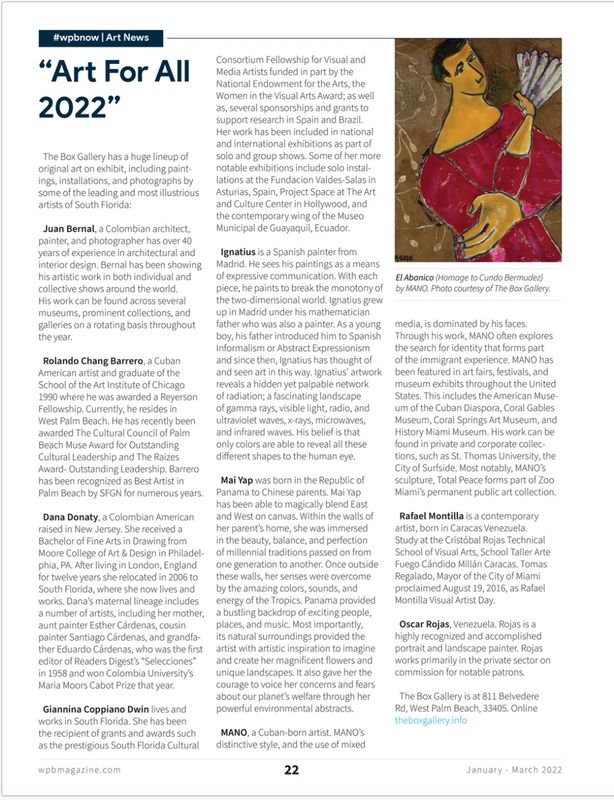 October 2021
West Palm Beach artist discusses the importance of equality
September 2021
The Box Gallery 

| Hispanic Heritage
Frank visits The Box Gallery in West Palm Beach for a taste of the arts. Curator Rolando Chang Barrero is also an artist, using visual mediums to spark conversation and highlight a diverse set of artists. Borrero is also an organizer and founder of multiple 
annual and ongoing cultural events. Watch here


Gallery sets exhibit up for National Hispanic Awareness Month in West Palm Beach


May 2021

href="https://www.wptv.com/news/region-c-palm-beach-county/west-palm-beach/colorful-exhibit-showcases-art-from-latin-american-culture" target="_blank">Colorful exhibit showcases art from Latin American culture
June 2021
Live conversation on Friday: Understanding LGBTQIA issues
March 2021

Domenic Esposito: A Spoon Full of Sugar
The Palm Beach Florida Weekly
Sensual and sensuous
We're thinking sensual this month, with objects that soothe the nose, 
the eye and the soul.
We're also thinking bespoke and one of a kind.
After all, each of us is unique. Shouldn't we surround ourselves with the rare and the wonderful?
Each of these should fit the bill. Enjoy!
— Scott Simmons, Editor
---

---

Palm Beach Post
Reflejos Exhibition at The Box Gallery
Guatemalan exhibit in West Palm Beach benefits children

South Florida Gay News
Best of 2017: Palm Beach
Best Art Gallery: The Box Gallery 
When it comes to art exhibitions, The Box Gallery thinks outside the box. "I program quite a bit and I program for the broader art community—by including a variety of art including music and dance," said Curator Rolando Chang Barrero. "Our engagement level is higher than many other area galleries."
The 4,000 square foot gallery is a vibrant, ever-changing space. Barrero said there's never been a gallery like this in Palm Beach County.
"Being a private art gallery, we can push the envelope," Barrero said. "I tend to show work that's extremely marginal and at times risqué. We tend to spotlights artists who are part of the LGBT community – not simply because they are part of that community, but because of the merit of their work. We hold all artists to the same high standard."
— DR

---

The Palm Beach Daily News: The Shiny Sheet
Spring Art Festival
Bouaziz approached Rolando Barrero, who runs The Box Gallery in West Palm Beach, to curate the festival three weeks ago, Barrero said. "He smiled at me and told me he was crazy," he said. "I said, 'I can do crazy.' "
---
To call Rolando Chang Barrero just "an artist" is an understatement. He is an outspoken activist for the South Florida arts scene, especially in Palm Beach County, where he has resided for the past several years.
"It's pretty safe to say that millions of people have enjoyed the rich art and cultural diversity of South Florida. Guests and tourists have flocked to South Florida way before the grand opening of Art Basel in 2002 and even prior to the South Florida Art Center on Lincoln Road in 1984," said the former Miami Beach resident. "In Palm Beach specifically, within the last six years we have witnessed an incredible maturity in both the public and private sectors of the art scene. From the city of Delray Beach to the city West Palm Beach it is more than apparent that the public art administrators and the area's artists are working together to create many of our nation's most syncretic art and cultural initiatives."
The Cuban-American graduate of the Arts Institute of Chicago Art School operates a self-named gallery in Lake Worth and was a pioneer in the Boynton Beach Arts District, where he founded ActivistArtistA Gallery, which promotes the works of new and maturing artists.
"I believe that artists make a living proportionally to their drive, circumstances, and vision. Like doctors, lawyers, and other professionals…some artists navigate life better than others," he explained.
"I have an insatiable desire to leave a legacy defined by what can be done—what is possible in the arts. I'm committed to the advancement of the arts in all areas. I want to enroll people in a vision full of possibilities."



---
Three to See

While most art lovers and aficionados flock to the newest trends and movements, there's a certain fascination with kitsch, especially over the last few decades. The Box Gallery in West Palm Beach celebrates this genre, defined as appealing to popular or lowbrow taste, in its newest exhibition, "Kitsch and Kulture," on display through the end of August. For the show, four South Florida-based artists created a narrative that details the kitsch movement from the 1960s to the 1990s through photographs, sculpture, fashion and more.
---
---
CRAVE
New York
Letter 16 Press
Other Reviews and Articles
West Palm Beach Magazine: The Retro Kitsch and Kulture Show at The Box Gallery Celebrates 4 Exceptional Artists
Palm Beach Daily News: Rolando Chang Barrero curator of West Palm Beach 1st Spring Art Festival
Sun Sentinel: Activists sound off on political issues at arts district

West Palm Beach Magazine:Flora and Fauna Takes on the Natural World
Palm Beach Post:3-day art event this weekend in West Palm Beach's new 'cultural corridor'