See artworks from our upcoming or past exhibitions 


---

Post Soviet 13

Performance and Preview

January 29, 2022 7-10 PM

RSVPVIP Reception

February 5, 2022 7-10 RSVP

Exhibition Dates

January 29-February 18, 2022




From the Russian Academy in Moscow until the present, the exhibition focuses on the work of four visual artists. This exhibition of masterful works explores the relationships between the four creatives, the influence of family, and their unique and magnificent intertwined and individual careers. PS13 features the work of Nicolas Ouporov, Suzanne Scherer, Pavel Ouporov, and Oleg Neishtadt.




Nicolas Ouporov

-A multi-disciplinary artist and student living and working in New York. Currently, I study computer science, mathematics, creative robotics, and economics at Columbia University. Nicolas is from the Boca Raton area in Florida and has a 14-year background in pre-professional ballet.

Nicolas has a long history in the performing arts and visual arts, working under institutions such as the Boston Ballet and Young Arts Foundation. He believe that aspects of the arts are present in all fields and he hopes to discover these intersections and pushing towards a more authentic, accessible world.




Pavel Ouporov study at the renowned Moscow Surikov State Academy Art Institute—one of Russia's two institutions of higher arts education and part of the Russian Academy of Arts established in 1757 by Peter the Great.


At the age of 11, Ouporov won admittance into the Moscow State Academy Art Lyceum, graduated at 18, and earned a Master of Fine Arts from the Moscow Surikov State Academy Art Institute.

Ouporov received national and international recognition, working with his partner until 2019. Museum exhibitions include the Library of Congress and Smithsonian Institution, Washington DC; Museum of Contemporary Art, Goldman Warehouse and Bass Museum, Miami; Historical Museum of the City of Vienna; World Financial Center, NY; Institute of Contemporary Art, Moscow; Passage de Retz, Paris; Boston Center for the Arts; Kemper Museum of Contemporary Art and Design, Kansas City; and the Frye Art Museum, Seattle. Their works are in the permanent collections of the Metropolitan Museum of Art, Harvard University Fogg Art Museum, the Library of Congress, New York Public Library, NY, and The State Russian Museum in St. Petersburg, among others.




American-born Suzanne Scherer and Russian-born Pavel Ouporov are a collaborative team who met while studying at the renowned Moscow Surikov State Academy Art Institute—one of Russia's two institutions of higher arts education and part of the Russian Academy of Arts established in 1757 by Peter the Great. Scherer earned a BFA from Florida State University, an MFA from Brooklyn College, and received an International Research & Exchanges Board Award to be the first American visual artist accepted into the Russian Academy of Arts during the Soviet period. At the age of 11, Ouporov won admittance into the Moscow State Academy Art Lyceum, graduated at 18, and earned a Master of Fine Arts from the Moscow Surikov State Academy Art Institute.

Scherer & Ouporov have received international recognition for their collaborative works. Museum exhibitions include the Library of Congress, Smithsonian Institution, Washington DC, Museum of Contemporary Art, Miami, Bass Museum, Miami, Historical Museum of the City of Vienna, ICA, Moscow, Passage de Retz, Paris, Boston Center for the Arts, Frye Art Museum, Seattle, Evansville Museum of Art, Indiana, and the Jule Collins Smith Museum of Fine Art, Auburn University. Their works are in the permanent collections of the Metropolitan Museum of Art, Harvard University Fogg Art Museum, the Library of Congress, NY Public Library, and The State Russian Museum in St. Petersburg, among others. Their work has been featured in Art In America, ArtNews, The New York Times, The New Yorker, PBS, and Public Affairs Television. The artists are represented by ACA Galleries, NY and Armand Bowling Fine Art, Jupiter FL. Their original prints are represented by the Mezzanine Gallery, Metropolitan Museum of Art, NY.





Oleg Neishtadt(Russian/American, b. 1962) Born in Moscow to artist-dissidents, grew up in NYC with whites, blacks & grays. Oleg has had his exhibited worldwide.


Curator: Rolando Chang Barrero, The Box Gallery




---

Coming soon...

Future in Focus: The Work of Tal Danino

RSVP

Open to the public on February 26, 2022 7-9 PM

VIP Reception on March 12, 2022

Tal Danino's research explores the emerging field of synthetic biology, focusing on engineering bacteria gene circuits to create novel behaviors that have biomedical applications.

Danino

creates visual art involving bacteria and cells and encompassing various themes, often exploring the relationship of humans to microorganisms. His works have gained significant attention and have been featured in the New York Times, The Atlantic, and Wired magazine. He has collaborated with artists such as Vik Muniz in the Colonies series, where he developed a photolithography based printing process to create intricate patterns out of both bacterial and cancer cells. Also in collaboration with Vik Muniz and created by Bernardaud was the Petri collection, a set of porcelain dinner plates depicting pathogenic bacteria.Tal has worked with other artists such as Anicka Yi, exploring concepts of biological identity. In Microuniverse, he used artistic processes such as silk screening to display a variety of petri-dish grown bacterial colonies on different color backgrounds to show their wide range of growth morphologies, from rings to fractals.

---

Art For All 2022


As seen in

West Palm Beach Magazine


A benefit for Forza Stefano Charitable Foundation and Art Synergy.

The Box Gallery

811 Belvedere Road, West Palm Beach, FL 33405

www.TheBoxGallery.info

Exhibition dates: January 8-23, 2022
Featuring works by...


Juan Bernal - Giannina Dwin

Ignatius - Mai Yap - Rafael Montilla

Mano Noriega - Oscar Rojas

A benefit for

Forza Stefano Charitable Foundation and Art Synergy
__________________________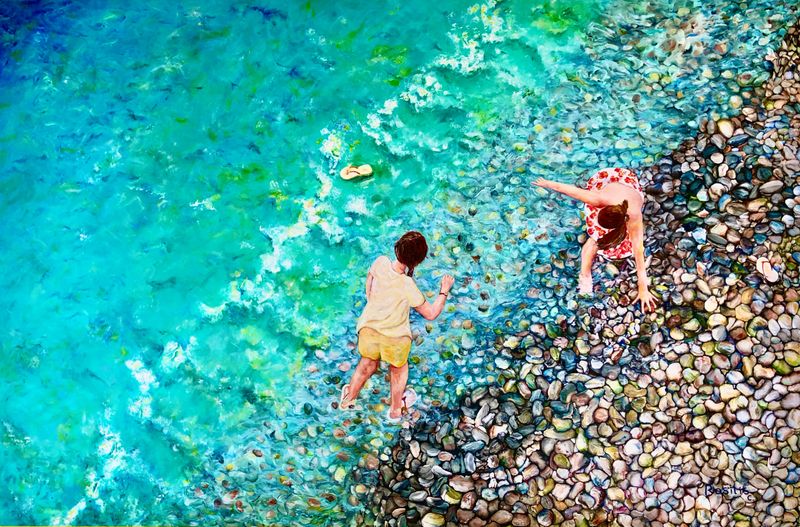 Hispanic Heritage
A Celebration of The Americas at The Box Gallery





ART EXHIBITIONS and Programs at The Box Gallery during Hispanic Heritage Month. 

THE ENVIRONMENT
September 11, 2021 6-8pm
The Work of Moises Morales Duque (COLOMBIA)
RSVP
The Box Gallery presents the visual essays of Colombian artist Moises Morales Duque highlighting critical environmental concerns in Colombia for Hispanic Heritage Month. The work of Moisés Morales Duque of Colombia is a visual call to action regarding the extinction of animals, deforestation, as a direct effect of climate change. Colombia is rated as HIGH ALERT CRISIS.


---

Saturday, October 2, 2021 7 PM
"Artistas de Las Americas"- 
Art Salon and Exhibition
Saturday, October 2, 2021 7 PM
RSVP
https://www.eventbrite.com/e/artistas-de-las-americas-art-salon-and-hispanic-heritage-exhibition-tickets-168953714107
Location: The Box Gallery, 811 Belvedere Rd.,West Palm Beach Florida 33405
Artists: Juan Carlos Badia Cabero (España/Honduras), Ivonne Torres (Mejico), Oscar Rojas (Venezuela), Clara Piquet (Brasil/ Brazil), Nelson Babilonia (Puerto Rico), Christine Nightingale (Chile), Moises Morales Duque (Colombia), Nereyda Ruíz (Republica Dominicana), Juan Ramirez (Colombia)



Friday, October 8, 2021 7 PM


"Los Escritores-The Writers" - Book Reading and Signing

Friday, October 8, 2021 7 PM


RSVP
https://www.eventbrite.com/e/hispanic-heritage-los-escritores-the-writers-book-reading-and-signing-tickets-168955758221


Location: The Box Gallery, 811 Belvedere Rd.,West Palm Beach Florida 33405




Latin American Authors: Eduardo Hernandez de la Pava, Jose Diaz-Diaz, Delia Marina Sanchez, and Ana Builes.




Novelists, poets, and art critics present published works in a meet and greet that includes readings, signings, Q and A session at The Box Gallery.







Sunday, October 10, 2021 5 PM




Las Obras de Jose Marti / Readings of Poems by Jose Marti

Sunday, October 10, 2021 5 PM







Location: Jose Marti Park 




Reading by various leaders of the Cuban community and friends gathered at the sculpture created by Cuban artist Tony Lopez.




Jose Marti: Cuban poet, philosopher, essayist, journalist, translator, professor, and publisher, who is considered a Cuban national hero because of his role in the liberation of his country. He was also an important figure in Latin American literature. He was very politically active and is considered an important revolutionary philosopher and political theorist. Through his writings and political activity, he became a symbol of Cuba's bid for independence from the Spanish Empire in the 19th century, and is referred to as the "Apostle of Cuban Independence". From adolescence, he dedicated his life to the promotion of liberty, political independence for Cuba, and intellectual independence for all Spanish Americans; his death was used as a cry for Cuban independence from Spain by both the Cuban revolutionaries and those Cubans previously reluctant to start a revolt.




______







Stewardship and Conservation

October 15, 2021 7-9 PM










Location: The Box Gallery, 811 Belvedere Rd.,West Palm Beach Florida 33405




Environmental Roundtable: Stewardship and Conservation




Speakers and Presenters:

Paul Fisher - The Gorilla Foundation and Palm Beach Parrot Organization

Drew Martin - Sierra Club Loxahatchee Group

Ginny Shaller - Philanthropist/ Collector

Matthew Schwartz -South Florida Wildlands Association

Moises Morales Duque - Sembrando Huellas Fundacion